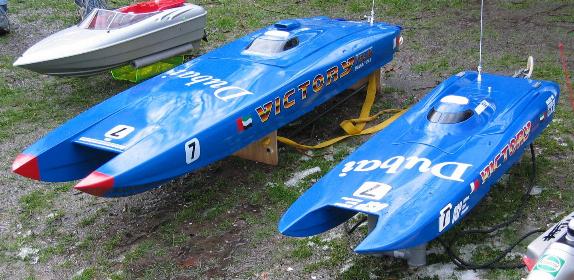 The story sofar
As i started building i tried to do it the cheap way,
How wrong i was, the used 820 motors couldnt handle the amps and after the third burnt motor i decided to put in the Ultras, wow this was better, but the amps were even higher so i fried 60 very expensive cells, back to the drawingboard, i also had to loose some weight so i came up with the new sanyo 4/5 cp cell which can handle currents up to 60 amps with ease.
This made the final difference and i went over 80 Kph with the propshop props, later i tried a pair of graupner 51 carbon props and this really made it fly, and also the sound of the props beating on the water is awesome, its almost like two Lamborghini engines are driving this beast !!

The next thing is the paint job, as i am a big fan of the victory team the colors of victory 7 are going to be used, check back for further updates..
Well its updated, The paintjob is on and the Ultra´s have been swapped fot 2 plettenberg brushless motors, The cells we are going to use are the new Red 3300 GP Nimh cells... As the water is frozen here at this time I dont have running pics with the new paintjob...